Halloween Movie
Special Advanced Screening Tickets at Bennett's Curse Haunted House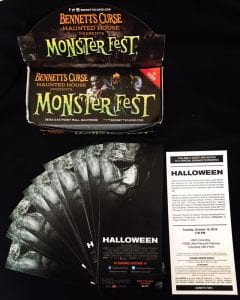 HALLOWEEN MOVIE
SPECIAL Advanced Screening !
The First 10 people each night who purchase 4 FULL PRiCE Tickets at the Box Office will get a FREE SCREENING PASS for 2 to the HALLOWEEN MOVIE.
Screening is Tuesday, October 16, 2018 7:30 PM
AMC Columbia 10300 Little Patuxent Parkway Columbia, MD 21044
Bennett's Curse Haunted House is OPEN  RAIN or SHINE.  All indoor including the waiting area. FREE Paved parking lot and NO MUDDY shoes!
Friday October 12.  Haunted House
Saturday October 13. Haunted House
Sunday October 14 Demon Baby Scavenger Hunt
Come join us before the lines get really long!
#hauntedhouse #eastpointmall #grouprates #halloween #halloween2 #maryland #besthauntedhouses #monsterfest  #bennettscurse #bennettscurse2018 #tickets #demonbabyscavengerhunt #blackoutnight #krampuschristmas #krampus #halloween #halloweenmovie #halloweenscreening #halloweenadvancedscreening #halloween2
Bennett's Curse Haunted House
7875A Eastpoint Mall
Baltimore, MD 21224
(Behind Gabe's)
Tickets:
http://bennettscurse2018.fearticket.com
YouTube:
https://www.youtube.com/user/bennettscurse
Facebook: Bennett's Curse Haunted House
Twitter: @bennettscurse
Instagram: #bennettscurse #bennettscurse2018
Website:https://www.bennettscurse.com
---