Bennett's Curse in Baltimore County names top haunted attraction- Washington Business Journal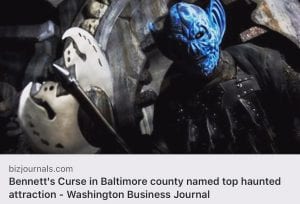 Thank you Washington Business Journal for the supportive article.  It feels great to earn our region the recognition it deserves on a national level in the Haunted House industry. We need the support of the entire DMV to ensure we can stay in the area and thrive and continue to offer you even more thrills!
Bennett's Curse Haunted House is OPEN this weekend. All indoor including the waiting area. FREE Paved parking lot.
Thursday October 18 Demon Baby Scavenger Hunt
Friday October 19 Haunted House
Saturday October 20. Haunted House
Sunday October 21 Demon Baby Scavenger Hunt
Come join us before the lines get really long!
#hauntedhouse #eastpointmall #grouprates #halloween #halloween2 #maryland #besthauntedhouses #monsterfest  #bennettscurse #bennettscurse2018 #tickets
#washingtonbusinessjournal  #supportsmallbusiness #visitmaryland  #tophauntedattraction #marylandpride #dmvhaunts #mdhaunts #demonbabyscavengerhunt #blackoutnight #krampuschristmas #krampus   #hauntedhouse #nomud #americahaunts
Bennett's Curse Haunted House
7875A Eastpoint Mall
Baltimore, MD 21224
(Behind Gabe's)
Tickets:
http://bennettscurse2018.fearticket.com
YouTube:
https://www.youtube.com/user/bennettscurse
Facebook: Bennett's Curse Haunted House
Twitter: @bennettscurse
Instagram: #bennettscurse #bennettscurse2018
Website:https://www.bennettscurse.com
https://www.google.com/amp/s/www.bizjournals.com/washington/news/2018/10/17/the-nations-top-haunted-attraction-is-a-short.amp.html?fbclid=IwAR2EbBEggAq5BlAfTvMt4kDRPnFFkDn6NQMcJsmw8L2RV-i1ot-wt8m9Hzk
---