Dates, Hours & Events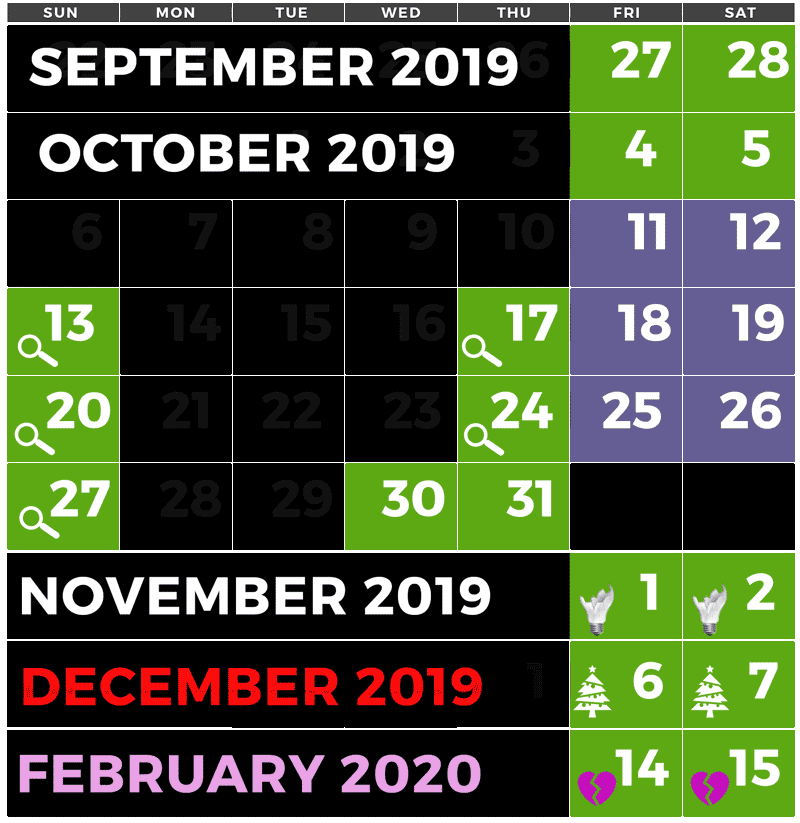 The box office opens at the advertised time but the attraction may open up to 30 minutes later.  Purchasing tickets online saves on your wait time for entering the waiting area.   Open dates and times are subject to change without notice.  Check our website NEWS link or our FACEBOOK page for any updates about closings/date changes. The attraction DOOR will close at posted closing time.  You must be in the DOOR at the posted closing time to guarantee entrance to all attractions.  Once in the door the attractions will stay open until either the last customer leaves Bennett's Curse safely, or they become trapped there forever, whichever comes first.
Demon Baby Scavenger Hunt
October 13, 17, 20, 24 & 27 2019 ONLY.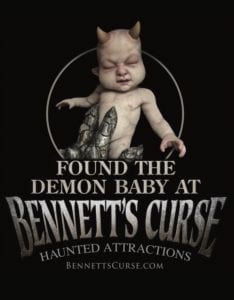 Back by popular demand  for 2019, the Demon baby Scavenger Hunt will take your Haunted House to the next level! A "cute" but terrifying demon baby has taken refuge hiding amongst the many monsters and creatures inhabiting Bennett's Curse Haunted House. On select nights this season, challenge yourself in the ultimate game of hide and seek and try to find the mischievous spawn of the Underworld . If you are lucky enough to find him, you'll win some cool prizes, and not to mention bragging rights amongst those in your group!  Please note this is a fully functioning haunted house tour with an added demon baby scavenger hunt search.  It's your choice if you wish to stay immersed in the haunted house experience around you or to challenge yourself to see if you can find the elusive demon spawn.
Black Out Night
November 1-2, 2019
The haunted house goes completely pitch dark.  You will be given a dimly lit LED finger light to explore the dark passages of Bennett's Curse. During this event the " Inferno in 3D" will be the only attraction with normal show lighting leaving the other 3 attractions in total darkness.


Valentine Fear Experience
February 14-15, 2020
Feel the love and the fear as Bennett's Curse Haunted House opens its doors this Valentine's Day weekend!  Hearts will be racing as you encounter a slew of terrifying characters.  The Matchmaker has hidden Cupid's Rotting Corpse.  Find the body and you'll win a special prize.  You're sure to have a bloody good time.