Valentine Fear Tickets on SALE NOW!
Valentine Fear Experience Saturday February 9th, 2019 ONLY!
LIMITED ENGAGEMENT!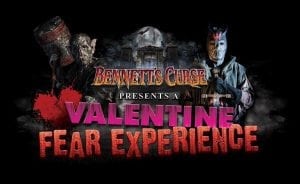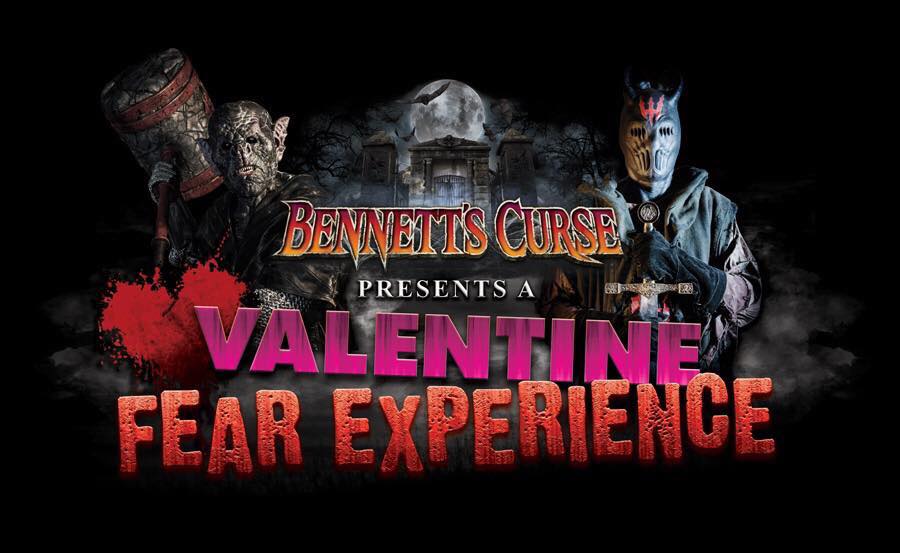 BENNETT'S CURSE VALENTINE FEAR EXPERIENCE  2019
For generations, one of the most recognizable symbols of Love has been Cupid, the winged child carrying a bow and a quiver of arrows whose wounds inspired love or passion in his every victim. Cupid, could be considered as the original Matchmaker! However, as with anything good and pure, there is always evil lurking and waiting to corrupt it. Cupid, the legendary icon has met his doom at the hands of a dark entity, an evil spirit released from the Underworld has been sent to kill Cupid, replacing him to sow the seeds of discord. But instead of leading people to everlasting love and happiness, the entity would lead lovestruck people into relationships full of pain and relentless torment! As another means to dishonor Cupid, the entity would go by his earthly name of "The Matchmaker".
This year, the legendary Bennett's Curse Haunted House will open its doors for a special event where in addition to our full cast of chilling characters, you will come face to face with The Matchmaker, the malevolent spirit successor to Cupid, along with introducing for this special Valentine's event, several other never before seen creatures inhabiting the dark halls and passageways of Bennett's Curse, one of America's best and scariest haunted house Attractions. Haunted Houses are not just for the fall season anymore! Try something different this year with your family and friends, or with your special sweetheart, and experience your BEST DATE NIGHT EVER at Bennett's Curse  Valentine's Experience! And one last thing, The Matchmaker has hidden the rotting corpse of Cupid somewhere inside Bennett's Curse Haunted House, see if you can find him and you can win a special Bennett's Curse Prize!
Bennett's Curse Haunted House is a locally owned and operated small family business.
No other Haunted House in the area has been consistently ranked, rated or featured on national TV as much as Bennett's Curse Haunted House Baltimore, MD.  What you see advertised on our website, in our videos and on all our social media pages is what you see inside the haunted house!


Why Should you Visit Bennett's Curse Haunted House ? 
 

#1 Reason- WE ARE SCARY!
Bennett's Curse Themed attractions includes Innovative Interactive Special Event Experiences which are included in the admission to all of our attractions.  
What makes Bennett's Curse stand amongst the top Halloween attractions in America is our dedication to creating a totally immersive and interactive environments for our guests.  We are a small family owned and operated business born and raised in Baltimore, Maryland and proud to always be the first to introduce you to the most innovative halloween attractions for the past 18 years.  No other haunted attraction in America can match Bennett's Curse' strong reputation for creative theming, and painstaking execution with great scares. While other attractions are content to follow current trends, Bennett's Curse is a trendsetter that raises the bar and sets the pace for offering premium terror for a new and demanding generation of thrill seekers! If you have visited Bennett's Curse in the past, be prepared to throw away all preconceived notions of what you can expect to experience. If this year will be your first time visiting or you've looked elsewhere for the highest quality Halloween entertainment and haven't experienced the fright of your life, then this is the year to visit!  For 2018, Bennett's Curse  Haunted House will deliver Monster Fest which you will not experience anywhere else!  As our Bennett's Curse family grows we will  continue to introduce to you the best Halloween experience the country has to offer and make our halloween traditions yours!  We thank you all for your continued support! Help us to keep Halloween thriving in Maryland!
"You guys have a passion and it translates into an incredible experience for your patrons. I get it. I see it and appreciate it because it is a rare art to be able to consistently offer a quality experience".  -Regan Garnett, Local Theater Director
Want to BE A MONSTER for Valentine Fear Experience ?
Bennett's Curse Haunted House in Baltimore Maryland would like you to become part of our Scream Team.  Please send an email to [email protected] to get more information on becoming an actor at Bennett's Curse Haunted House.
Bennett's Curse Haunted House
7875A Eastpoint Mall

Baltimore, MD 21224 
Use Entrance #6 behind Gabe's.
OPEN RAIN or SHINE!
Bennett's Curse Haunted House Valentine Fear Experience 2019  is an ALL INDOOR EVENT
(including the waiting area)
Bennett's Curse Haunted House is open 7pm-10pm on February 9th, 2019
Cash Only at the Box Office.