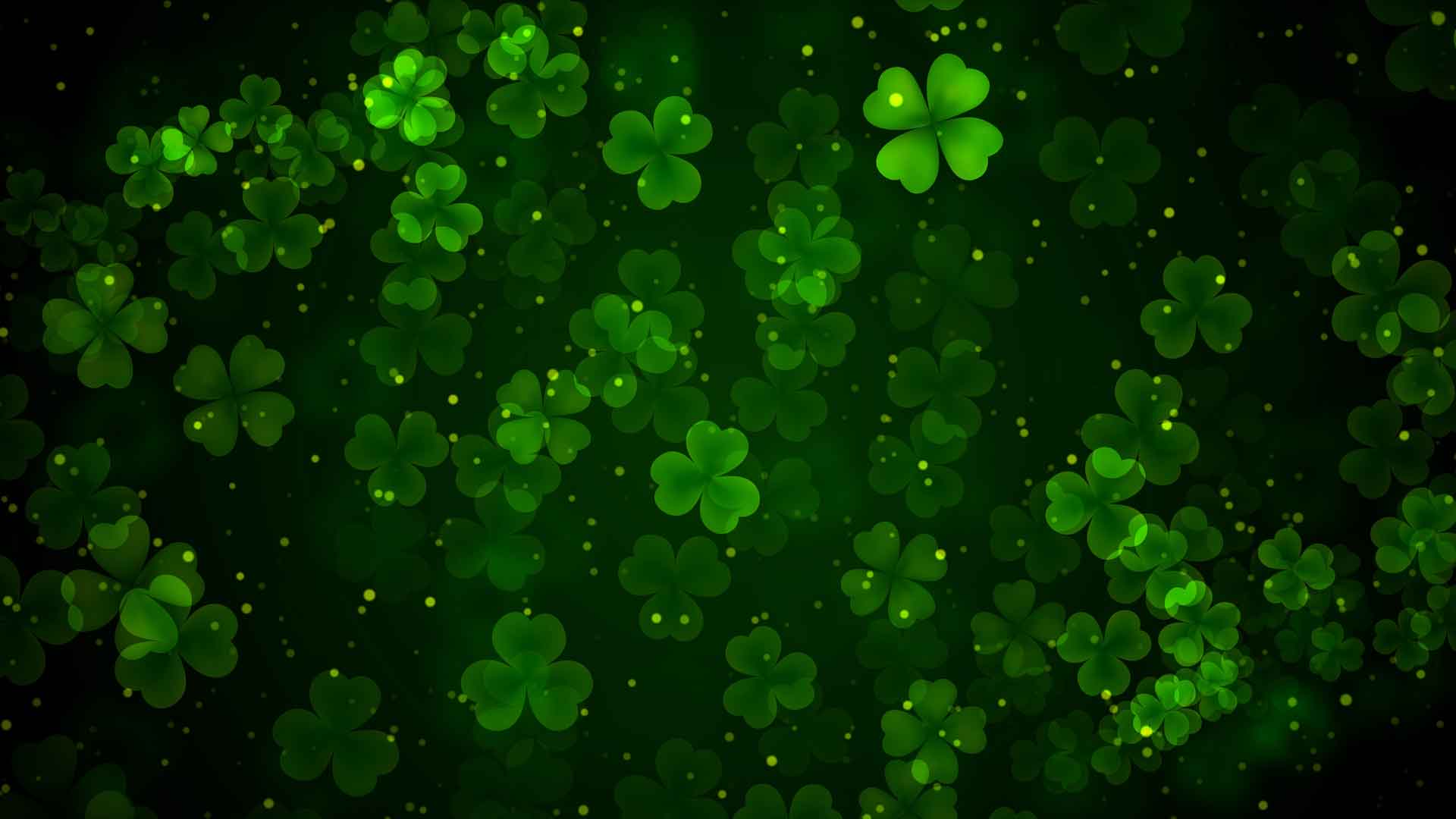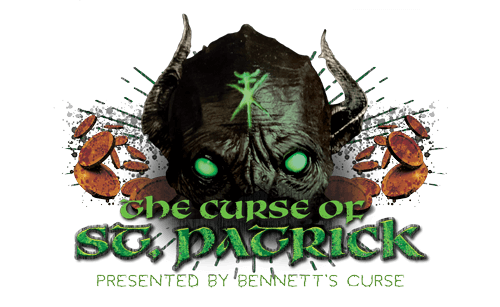 The Curse of St. Patrick at Bennett's Curse Haunted House
March 18, 2023
7:00pm-10:00pm

Arrive anytime between 7pm-10pm
Doors close promptly at 10pm.
For the first time ever, join us for this terrifying new show celebrating the many horrific and mysterious dark legends of Ireland along with the amazing array of horrific characters throughout Bennett's Curse. As you navigate your way through the dark corridors and come face to face with the many creatures within, temp your fate by accepting golden coins from them during your tour. Find out for yourself if you have the luck of the Irish and make your way out alive, or if you will remain one of them forever!☘️
In the untamed wilds of ancient Ireland, a dreaded terror roamed the countryside for centuries terrorizing villages and its desperate inhabitants. The mysterious entity went by the name of The Bodach. Possessed with supernatural abilities to change any living being into a malevolent scourge on humanity, The Bodach was able to twist people and other creatures known to Ireland to align with his will. In the 5th century, the legendary Saint Patrick traveled to Ireland to enlighten them, but he first had to bring an end to the growing evil rampaging across the island. Saint Patrick quickly realized that it would be impossible to perform the number of exorcisms needed to remove the spirits possessing so many, so he went on the hunt for the Bodach himself to eliminate the root cause. Finding The Bodach was no easy task as he was very elusive and could inhabit and living soul. Saint Patrick discovered that if anyone encountered the unclean spirits and were not immediately possessed upon meeting them, they were gifted with a single gold coin. However, recipients realized that it was not a sign of good luck as they first thought, for the coins were cursed and an omen for great misfortune and even death were soon to come. Finally, after years of pursuit, Saint Patrick cornered The Bodach, tracking him to his hidden lair and banished him from the island. Searching for a new domain, The Bodach returned to the Underworld. Known to all demons and evil beings, the portals to the the new world were soon discovered and the Bodach has re-emerged at the legendary Haunted House Bennett's Curse. Now, experience for yourself the legend of The Bodach, and see if you are lucky enough to make it out ALIVE!


Purchase your Tickets at the door or online!
CASH ONLY at the door.
Ticket pricing includes admission to all 4 haunted attractions!
Bennett's Curse Haunted House is NOT recommended for children under the age of 10.  Children under the age of 14 must be accompanied by a guest age 14 or older to enter.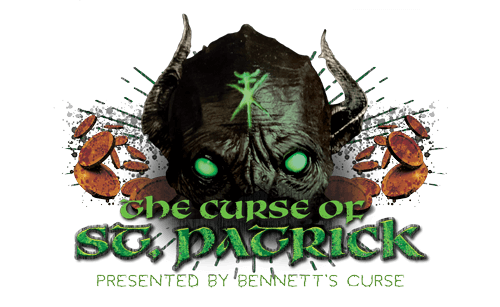 10% Admission and Amusement Tax is included in the price of the ticket.
What's the difference between SPEED PASS & VIP?
SPEED PASS is a reservation timed ticket.  Approximate wait time is no longer than 45 minutes once you enter the waiting area and could be less depending on how busy the event is when you arrive.  You can enter the line anytime within the hour of your timed ticket.  Weekends and dates closer to Halloween tend to have longer wait times.
VIP admission is next available in line.  We queue the VIP admission with priority over the Speed Pass and General Admission Ticketing.  You will be taken into the attraction with the next available group.
Click on the Buy Tickets Now to Save Time.
We ONLY accept CASH at the box office. ATM on-site.
Credit cards CAN be used through online ticketing only.
Buy Tickets to Bennett's Curse Haunted House in Baltimore County, Maryland.  Prices are for all ages. This haunted attraction is not recommended for children under the age of 10. Parents please use your own discretion. Children under 10 must be accompanied by an adult.
For your convenience, we are offering online ticket sales. Coupons not valid with on-line ticket purchases. Competitor coupons are accepted at the gate as well.  We will honor the fine print on the coupon as presented.  Please visit our discount page to print a coupon and find out how to get  EARLY BIRD discounts when you purchase at the door between 7pm-8pm or a FREE T-shirt with your full price admission while supplies last.  Save on the on-line service fee by purchasing at the door.
7875A Eastpoint Mall

Dundalk, MD 21224 
FREE PARKING
Call or text us:
410-322-7332
We are located on the EASTERN AVENUE side of the MALL.
Use Entrance #6 located behind GABE'S
(Go to the GABE'S loading dock area)
OPEN RAIN or SHINE!
Bennett's Curse Haunted House is an ALL INDOOR EVENT
(including the waiting area)
CASH ONLY at the Box Office. 
Be sure to visit our Merchandise Booth at the event for some cool t-shirts
and collectibles to remember your visit!
WARNING – DISCLAIMER
Bennett Entertainment LLC reserves the right to refuse admission to anyone.
Holder of the ticket understands that there is inherent risk involved with attending Bennett Entertainment LLC Haunted Attractions.
Holder voluntarily assumes all risks and dangers associated with participation in Bennett Entertainment LLC Haunted Attractions.
In consideration and acceptance of entrance into Bennett Entertainment LLC Haunted Attractions holder agrees to release the operator, it's parent LLC, affiliates, officers, directors, employees and landlord from any liability, harm, injury or death, cost or expense whatsoever that may arise directly or indirectly from attending Bennett Entertainment LLC Haunted Attractions at these locations.
Privacy & Security Policy
Bennett Entertainment LLC does not sell your information;
When you place an order for tickets with Bennett Entertainment LLC you will be transferred to a secure website.
Online Ticket Sales:
Tickets purchased online are valid for the date purchased. All online ticket sale holders can bypass the onsite ticket sales box office lines and go immediately to the general admission, Speed Pass or VIP attraction lines based on ticket type purchased.
If you purchase a ticket from anyone other than Bennett Entertainment LLC you take the risk of being scammed.
Speed Pass Tickets:
At any time prior to entry into the attraction the Speed Pass can be upgraded from general admission ticket at the event box office for only $10 more per ticket.
VIP Tickets:
This ticket grants you access to the VIP line with next in line access and is given preference over the general admission and Speed Pass ticket holders. This type may be purchased on-line or at the event box office. Please proceed to the VIP line once you arrive at the attraction. At any time prior to entry into the attraction the VIP can be upgraded from General Admission  or Speed Pass at the event box office for the difference in price paid.
Groups 20 + Tickets:
Save up to 50% off for buying 20+ tickets at one time. Please contact our group sales by sending an email  [email protected] to inquire about group tickets of 20 or more or call 410-322-7332 for more details.  Must contact us in advance for group sales purchases.
Shipping Method:
All online ticket purchases are printed from your computer.  You can print your tickets or show the bar code on your phone when you arrive.
Inclement Weather Policy:
Bennett Entertainment LLC Attractions will not close due to normal seasonal weather conditions. Please visit the news section of our website or our facebook page for updates on weather related concerns.  If we do close due to abnormal weather your tickets can be used another night.