BEST DEAL OF THE SEASON!!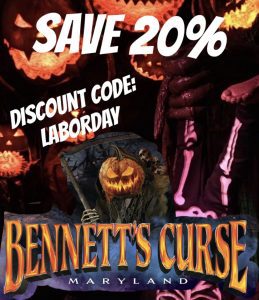 Save 20% when you purchase 2 or more TICKETS!! Valid ANY date ANY ticket type!  Buy your tickets NOW!
Discount code: Laborday
https://bennettscurse2022.fearticket.com
Hurry Expires 9/5/22 at midnight.  Not valid with prior purchases or with any other promo or discount. Must have 2 or more tickets in your cart to get this deal!!
#bennettscurse #hauntedhouse #halloween #eastpointmall #save20 #laborday #visitmaryland #scariesthauntedhouses #mdtourism #enjoybaltimorecounty #enjoybaltimore @everyone
---