Dundalk Eagle- Fright Night
Bennett's Curse Haunted House Dundalk Eagle " Fright Night"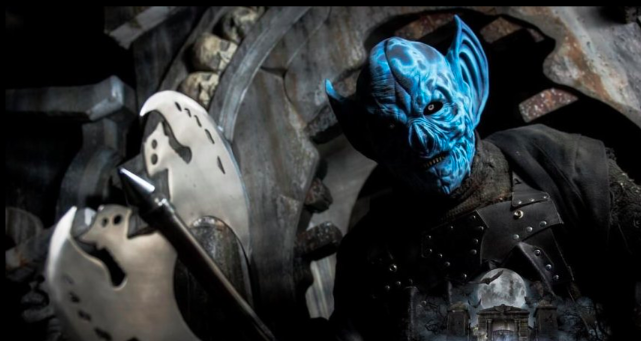 If you're looking for a good fright this Halloween season, Bennett's Curse, named one of the Travel Channel's Scariest Haunted Attractions in America, is sure to get your heart racing.
Located at Eastpoint Mall for the second year in a row, Bennett's Curse Monster Fest is the most frightening show ever in the attraction's history according to owner Jill Bennett who, along with her husband Allan, opened Bennett's Curse 18 years ago at Arundel Mills Mall.
This all-new show takes visitors into four different scenes, and each one is more haunting than the next. Legends of Halloween features traditional witches and skeletons and other creepy Halloween icons. The Underworld pits demons against vampires. Inferno in 3D is a play on Dante's Inferno and the circles of hell, and you are actually given 3D glasses to wear during this part of the experience. Finally, Ravenbrook Asylum has all of the characters you might expect to find in a horror movie insane asylum.
"Allan is the ideas person. He loves epic movies, like Lord of the Rings and Underworld. Everything is larger than life," said Bennett. "He loves Halloween, and his passion for it really pulled me into it."
The couple met at University of Maryland in 1998, and Allan was volunteering at Huber's Haunted Hayride at the time. Jill went on to volunteer the next year.
"He told me he always wanted to open up a haunted attraction, so we took a look at everything in the off season. He showed me that it was a real business, not just in October," said Bennett.
In 2000, the couple visited as many haunted attractions as they could, and in 2001, they opened Bennett's Curse at Arundel Mills Mall, where they stayed for 9 years. They left when the property was being redeveloped, moving to Blob's Park in Jessup for several years. They moved to Baltimore City in 2015, but they were unable to obtain a city fire permit in 2016 so they did not open that season. Finally they moved to Eastpoint Mall last year.
In addition to the Travel Channel, Bennett's Curse has been featured on the hit show "Making Monsters." The attraction has been selected year after year as one of "America's Best Haunts," one of the "25 Must see Haunted Attractions" from Haunted Attraction Magazine, and one of the top 13 haunts by Hauntworld magazine, the #1 authority on Haunted Attraction rankings.
With a resume like that, just because Bennett is the owner, it doesn't mean things don't get to her.
"I get really scared. I scare very easily," said Bennett. "One thing I can promise you, if you come to Bennett's Curse, you're going to get scared. This is a fun family event, and there is always something you can take away from it, whether it be the props or the costumes or certain actors who were memorable. Just keep an open mind."
Bennett's Curse staffs 65 employees and additional volunteers to run each season. It takes about 30 minutes to get through the four different areas, and Bennett says they don't recommend the attraction for children under 10. There are also a couple of special themed nights during the season to keep in mind. These include:
Demon Baby Scavenger Hunt – Oct. 11,14,18,21 & 25 Only
New for 2018, the Demon baby Scavenger Hunt will take your Haunted House tour to the next level! A "cute" but terrifying demon baby has taken refuge hiding amongst the many monsters and creatures inhabiting Bennett's Curse Haunted House. Challenge yourself in the ultimate game of hide and seek and try to find the mischievous spawn of the Underworld. If you are lucky enough to find him, you'll win some cool prizes, and not to mention bragging rights amongst those in your group!
Black Out Nights
Nov. 2 & 3 Only
After the Halloween season closes, the lights go out and a completely different, even more terrifying show comes to life as part of the haunted house goes completely pitch dark! You and your group will be given a few dimly lit LED finger lights to explore the dark passages of Bennett's Curse. During the Halloween season, the haunted house is known for it's highly detailed sets and amazing lighting effects, but, during Black Out Nights, everything changes, and a completely different show emerges, one that you and your group can explore. During the event, there continues to be a full cast of Monsters roaming around…in the dark!
Bennett's Curse
Monster Fest
Open Fridays and Saturdays in October from 7 pm to 11 pm.
Open Sundays and Thursdays in October and Halloween Eve and Night (Oct. 30 & 31) from 7 pm to 10 pm.
Open all other Fridays and Saturday 7 pm to 10 pm
General admission Tickets start at $35.
Accepting ALL competitor Haunted House coupons when you present the coupon and purchase your tickets at the gate.
Location:
7875A Eastpoint Mall
Baltimore, MD 21224
For more information, hours or tickets, go to https://bennettscurse.com.
---