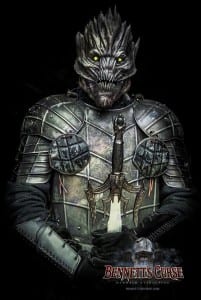 Bennett's Curse is easily recognized as the #1 Haunted Attraction in the DMV. Our customers have agreed and continue to support us by the thousands and thousands every year. Accolades both locally and nationally come in every year and it's met with praise from supporters and envy and fake reviews by the trolls.
The facts will always be the facts, and that is that no other Halloween attraction in the region is as well respected and heavily featured in legit media than Bennett's Curse. No others can boast the level of film quality sets, dozens of CUSTOM props and animation, professional sound and lighting and the some of the best trained and skilled movie quality costumed actors not only only in the region, but in the entire country, ( as voted #1 best actors two years in a row by Hauntworld.com)
What this means for you? It means that at no other attraction will you get to experience a Halloween event on such a high level in every important category. Some shows might have a naturally creepy atmosphere, some have some good sets and actors, but none of them puts it all together on our level. And THAT, is why we earn our rankings and possess the impressive reputation that we continue to enjoy. But, we don't rest on our reputation and our laurels, we feel the same hunger to improve as we did 15 years ago. We are only getting started, we've only scratched the surface of what we have in store for you. We will continue to work tirelessly to create for you the ULTIMATE Halloween experience and will achieve the ranking for the best Haunted House in America is our goal, and is within our site.
Thank you all very much for your support over the years and those who continue to support us in helping us to become the #1 in the country. We do this attraction for you, our valued guests! The blood, sweat, and tears that goes into our show from so many is all to entertain YOU, and to celebrate the season we love with you!
Here is a PARTIAL list of media who has Rated and Ranked us as one of the top Haunts in the county and locally.
National media
Huffington Post
Yahoo!
MSNBC
Travel channel
Readers digest
Hauntworld
Haunted America Tours
Americasbesthaunts.com
Tophaunts.com
Fangoria
Weather channel
Hauntedhouseratings.com
Men's Health Magazine
Fox News
Local media
Chesapeake Inspired
Baltimore Sun
CBS Baltimore
Penny saver
About.com Baltimore
Washington Times
NBC Washington
---