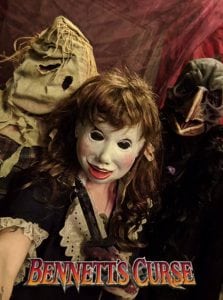 Opening Weekend at Bennett's Curse  Monster Fest Laser Tag September 22,2018
Tonight is the night for some interactive Fright! We're kicking off opening weekend with "Monster Laser Tag". The Haunted House is fully staffed with MONSTERS on the attack that you shoot while touring the Legends of Halloween and Underworld attractions! Experience the Inferno 3D wearing special Chromadepth 3D glasses which uses sophisticated micro-optics to transform color into images. Lastly the Ravenbrook Asylum has been transformed to and is now accepting new patients and an incredible brand new cemetery ending.
Bennett's Curse is OPEN tonight Saturday September 22, 2018 from 7pm-10pm! Be the First to EXPERIENCE the CURSE!
http://bennettscurse2018.fearticket.com
https://www.youtube.com/user/bennettscurse
Facebook: Bennett's Curse Haunted House
Instagram:
#bennettscurse
#bennettscurse2018
Website:https://www.bennettscurse.com @ Bennett's Curse Haunted House
---