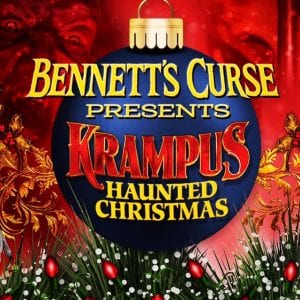 Do you want to WIN 6 VIP Tickets to Krampus Haunted Christmas?
We want to make Bennett's Curse Haunted House even better next year and we need your help.
Please fill out our short survey and tell us how you would like Bennett's Curse to improve.
This will enter you to WIN 6 VIP tickets to Krampus Haunted Christmas December 7th or 8th, 2018. Share the post and tag 5 friends you would bring for more chances to Win the tickets.
Take the survey here
https://goo.gl/forms/8O5JIy5dFx9UhJu62
Krampus Haunted Christmas
Save 25% online using discount code: Krampus
Expires 11/23/18 not valid on prior purchases.
No adjustments made after purchase so please add code prior to purchasing.
Dates & Times:
Friday December 7th 7pm-10pm
Saturday December 8th 7pm-10pm
Bennett's Curse Haunted House
7875A Eastpoint Mall
Baltimore, MD 21224
(Behind Gabe's across from Party City)
Tickets:
http://bennettscurse2018.fearticket.com
YouTube:
https://www.youtube.com/user/bennettscurse
Facebook: Bennett's Curse Haunted House
Twitter: @bennettscurse
Instagram: #bennettscurse #bennettscurse2018
Website:https://www.bennettscurse.com
#hauntedhouse #eastpointmall #maryland #bennettscurse #bennettscurse2018 #tickets #krampuschristmas #krampus #hauntedhouse #americahaunts #krampushaunted #krampushauntedchristmas #krampusornament #bcornament
---