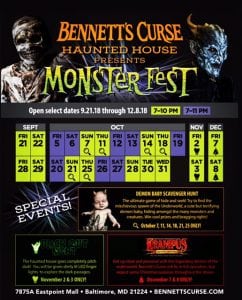 Bennett's Curse Presents Monster Fest Demon Baby Scavenger this Thursday October 11th and Sunday October 14th.  Find the Demon Baby and WIN A large one topping pizza from Pizza Boli's , two sweet treats from Chick Fil-A and a collectible Bennett's Curse Logo T-shirt!
Bennett's Curse Haunted House is OPEN  RAIN or SHINE.  All indoor including the waiting area. FREE Paved parking lot and NO MUDDY shoes!
Thursday October 11. Demon Baby Scavenger Hunt
Friday October 12.  Haunted House
Saturday October 13. Haunted House
Sunday October 14 Demon Baby Scavenger Hunt
Come join us before the lines get really long!
#hauntedhouse #eastpointmall #grouprates #halloween #halloween2 #maryland #besthauntedhouses #monsterfest  #bennettscurse #bennettscurse2018 #tickets #demonbabyscavengerhunt #blackoutnight #krampuschristmas #krampus
Bennett's Curse Haunted House
7875A Eastpoint Mall
Baltimore, MD 21224
(Behind Gabe's)
Tickets:
http://bennettscurse2018.fearticket.com
YouTube:
https://www.youtube.com/user/bennettscurse
Facebook: Bennett's Curse Haunted House
Twitter: @bennettscurse
Instagram: #bennettscurse #bennettscurse2018
Website:https://www.bennettscurse.com
---