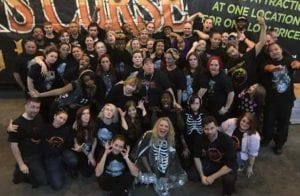 2018 EMPLOYMENT OPPORTUNITIES FOR
Bennett's Curse Haunted House
Bennett Entertainment LLC known as Bennett's Curse Haunted House is currently hiring actors and staff for its 2018 season.
We are always looking for new energetic and enthusiastic people to join our team at Bennett's Curse. If you love the art of scaring people in a safe, fun environment, are an experienced haunter or a first-time haunter, or just have a love for Halloween, then we would like to meet you. We are looking mainly for Actors of all kinds to work in our haunted house – SPECIFICALLY petite men & women to fit into props / drop panel scares, tall and husky men, and extremely physically fit and athletic people. We are also looking for skilled makeup artists specializing in scare makeup. All positions are paid.
Our hours & dates of operation :
Actors arrive between 6:00-6:30pm
Hours for September
Friday – Saturday 7pm- 10pm
Sept 21-22.
28-29.
Hours for October
Sunday – Thursday 7 pm – 10 pm
Friday- Saturday 7 pm – 11 pm
Oct. 5-6-7
11- 12-13-14.
18-19-20-21.
25-26-27-28.
30-31
Hours for November
Friday- Saturday 7pm -10pm
Nov. 2-3.
Call times for employees will range from 6:00pm – 6:30pm. Some weekend nights may go well past 11 :00 pm.
WE WILL HOLD OPEN AUDITIONS/INTERVIEWS ON SUNDAY, AUGUST 26th 11:00AM-2:00PM
Additional Training Days will be in September.
AT BENNETT'S CURSE
7875A Eastpoint Mall (next to Gabe's)
Baltimore, MD 21224
Requirements to be part of our team are:
Individuals MUST be 16 or older as of opening night. 16-17 must have parents signatures and apply for a work permit.
Have a clean criminal record
Have good work ethic (arrive to work on time, respect for managers, fellow employees, and costumers, etc)
Have reliable transportation to and from work
Be willing and able to stand for long periods of time.
Have energy, enthusiasm, and be open-minded
Be available during our operation dates and times
Be of good health and physicality
Some jobs require more strength than others
If you fit the above requirements and would like to be considered for employment, please email us at [email protected] (you may also direct any employment questions to this email address) also fill out the 2018 application I attached a link below and in the comments.
https://docs.google.com/…/1FAIpQLSemagS8NsF4Ff1dX…/viewform…
---