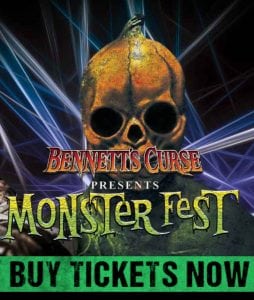 Get you Pre Season Bennett's Curse tickets for 20% off online today!
Hurry offer expires Aug 31 at 11:59 pm. Limited quantities available.
Buy Now and save 20% off General Admission, Speed Pass or VIP Admission Tickets*! Hurry tag your friends in the comments and share this event post! Only 100 event tickets per ticket type per date listed will be sold at this price. Limited quanitites so purchase your tickets NOW!
This event is for purchasing 2018 Pre Season Event Tickets for Bennett's Curse Haunted House Online Only!
This deal expires at 11:59pm on August 31st. 
Purchase today and use Promo code : PRE18 at checkout in the (Have a discount code?) field.
Promo code is only valid at https://bennettscurse2018.fearticket.com/
Limited Quanitites of tickets available for 20% Discount includes the events listed below and additional operating dates.
Demon Baby Scavenger Hunt
October 7,11,14,18, 21 & 25, 2018
Black Out Night
November 2-3, 2018
Krampus "A Haunted Christmas"
December 7-8, 2018
*This offer is NOT valid for Monster Fest Laser Tag dates Sept 21 & 22, 2018.
Any questions please email [email protected]
---