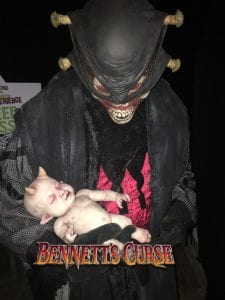 Bennett's Curse Haunted House is OPEN this weekend. Rain of Shine. All indoor haunted Houses including the waiting area. FREE Paved parking lot. No muddy shoes.  Doors Open at 7pm. Buy your tickets online now the night of the event at the gate.  Cash only at the gate ATM on-site.
Thursday October 25 Last night for the Demon Baby Scavenger Hunt & Haunted House
Friday October 26
Saturday October 27.
Sunday October 28
Tuesday October 30
Wednesday October 31
Friday Nov 2 BLACKOUT NIGHT
Saturday Nov 3 BLACKOUT NIGHT
Friday Dec 7 Krampus Haunted Christmas
Saturday Dec 8 Krampus Haunted Christmas
#hauntedhouse #eastpointmall  #halloween #halloween2 #maryland #besthauntedhouses #monsterfest  #bennettscurse #bennettscurse2018 #tickets #supportsmallbusiness #visitmaryland  #tophauntedattraction #marylandpride #dmvhaunts #mdhaunts #demonbabyscavengerhunt #blackoutnight #krampuschristmas #krampus   #hauntedhouse #nomud #americahaunts
Bennett's Curse Haunted House
7875A Eastpoint Mall
Baltimore, MD 21224
(Behind Gabe's across from Party City)
Tickets:
http://bennettscurse2018.fearticket.com
YouTube:
https://www.youtube.com/user/bennettscurse
Facebook: Bennett's Curse Haunted House
Twitter: @bennettscurse
Instagram: #bennettscurse #bennettscurse2018
Website:https://www.bennettscurse.com