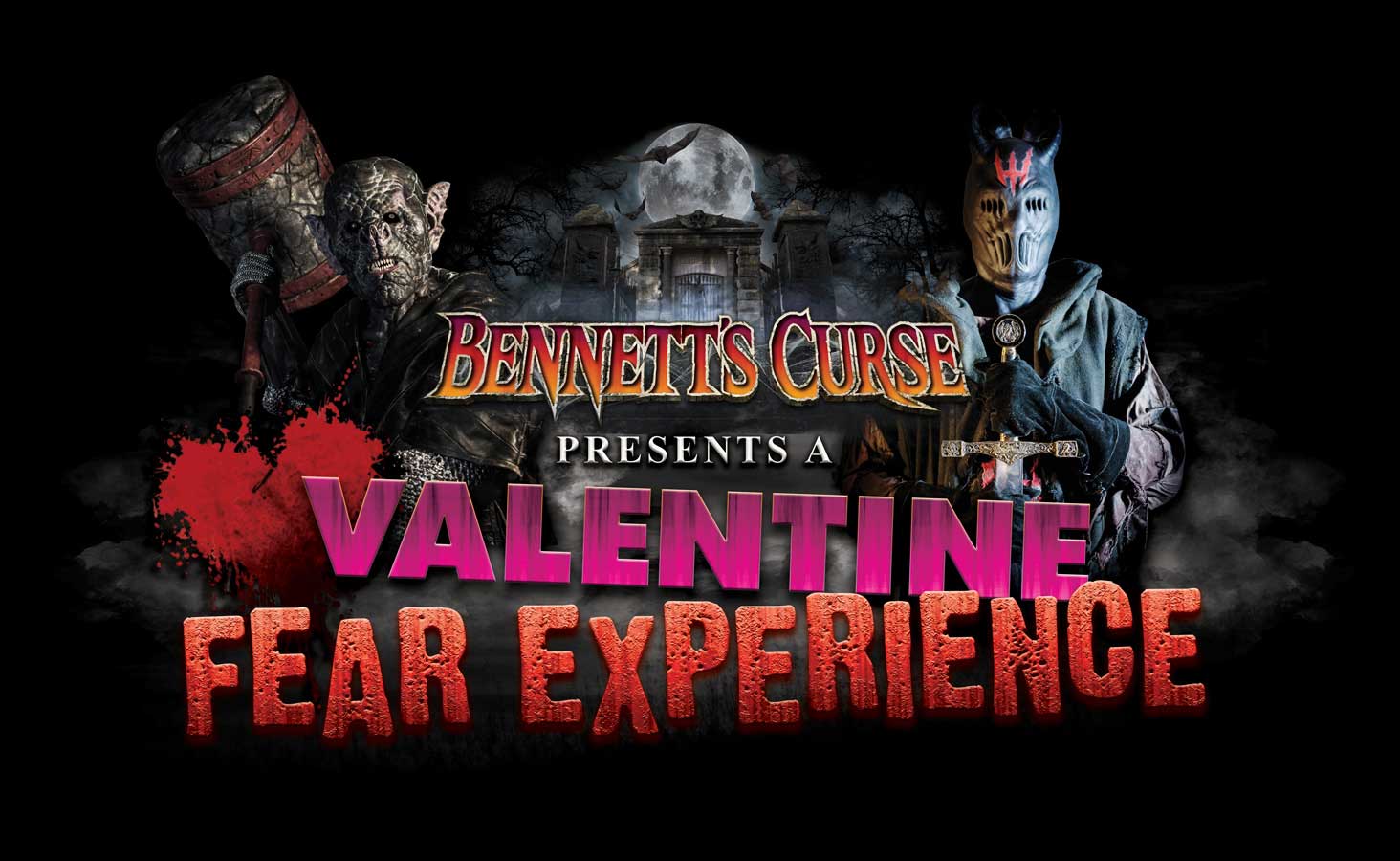 For generations, one of the most recognizable symbols of Love has been Cupid, the winged child carrying a bow and a quiver of arrows whose wounds inspired love or passion in his every victim. Cupid, could be considered as the original Matchmaker! However, as with anything good and pure, there is always evil lurking and waiting to corrupt it. Cupid, the legendary icon has met his doom at the hands of a dark entity, an evil spirit released from the Underworld has been sent to kill Cupid, replacing him to sow the seeds of discord. But instead of leading people to everlasting love and happiness, the entity would lead lovestruck people into relationships full of pain and relentless torment! As another means to dishonor Cupid, the entity would go by his earthly name of "The Matchmaker".
This year, the legendary Bennett's Curse Haunted House will open its doors for a special 2 night event where in addition to our full cast of chilling characters, you will come face to face with The Matchmaker, the malevolent spirit successor to Cupid, along with introducing for this special Valentine's event, several other never before seen creatures inhabiting the dark halls and passageways of Bennett's Curse, one of America's best and scariest haunted house Attractions. Haunted Houses are not just for the fall season anymore! Try something different this year with your family and friends, or with your special sweetheart, and experience your BEST DATE NIGHT EVER at Bennett's Curse Ultimate Valentine's Experience! And one last thing, The Matchmaker has hidden the rotting corpse of Cupid somewhere inside Bennett's Curse Haunted House, see if you can find him and you can win a special Bennett's Curse collectible!
LOCATED AT
7875A Eastpoint Mall Baltimore, MD 21224   
Save TIME and MONEY
 Buy Your Tickets ONLINE! 
Bennett's Curse Haunted House is known nationally as the areas Largest and Best Halloween attraction. Ranked #1 in the DMV by NBC Washington and rated by multiple trusted sources as the one of the Top 10 Haunted Houses in the country .
CONVENIENT LOCATION !
Our Address:
Bennett's Curse Haunted House
7875A Eastpoint Mall
 Baltimore, MD 21224 
Formerly the DSW Shoe Warhouse Entrance #5 next to Shoppers World
Follow us on Social Media to get year round updates, flash sale discounts, free tickets, merchandise and more with up to the minute news and information about Bennett's Curse Haunted House.
Email us: 
Why Should you Visit Bennett's Curse Haunted House ?
Come visit the scariest and one of the most World renown Haunted House located right here in the Mid-Atlantic. Experience Maryland's Ultimate Haunted House with over 17 years of experience! Don't miss this amazing attraction, Bennett's Curse Haunted House is the event everyone is talking about during the Halloween Season and see how the Bennett's passion for Halloween is undeniably expressed by the quality of the show!  See the difference for yourself, as dollar for dollar other Halloween attractions just don't compare to the quality for thrilling entertainment seen at Bennett's Curse Haunted House. Our mission is to put Maryland on the Haunted House Map for Halloween and our national ranking proves we make it happen.  Rated #1 in the DMV by NBC Washington, Halloween has never been this much fun with friends, family and more.  Grab your friends and GET SCARED at Bennett's Curse Haunted House! Got a bunch of family and friends, church or special group, celebrating a birthday? Groups always experience a night of unforgettable fun! We are an award winning haunted house with amazing costumes, theming, details, sets, scenery, music, sound, lighting, actors and animation put Bennett's Curse Haunted House over the top.   This is the year to attend Bennett's Curse Haunted House in our new temporary location in Baltimore county, Maryland. Bennett's Curse Haunted House puts you in the middle of an amazing adventure, a true interactive experience that will leave you wanting more as evidence by our growing and enthusiastic number of guests we are By far the scariest, biggest and most honored Halloween tradition in the Maryland/ Washington DC area.  You have other haunted attraction choices, choose the best, choose Bennett's Curse Haunted House.  Bennett's Curse offers the best bang for your buck value in Maryland.  Bennett's Curse is an all-out assault on your senses, bringing you even closer to your nightmares than you can find anywhere else.  The legendary Bennett's Curse Haunted House continues to grow and dominate the region. If you haven't been in a while, now is the time to face your fears. If you think it's the same show as last year, think again! We are always changing and improving our show even during the season! Bennett's Curse Haunted House proves once again that not all nightmares happen while you're sleeping.  
Save TIME and MONEY and Buy Online! 
Want to BE A MONSTER AT Bennett's Curse
Haunted House ?
Bennett's Curse Haunted House in Baltimore Maryland would like you to become part of our Scream Team.  Please fill out the Bennett's Curse Application 2017 and contact Rob Forloines [email protected] to get more information on becoming an actor at Bennett's Curse Haunted House for the 2017 season.