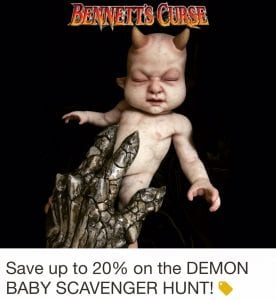 Bennett's Curse Haunted House Demon Baby Scavenger Hunt Save $5 Online using Discount Code: Save5 or Save $7 at the Gate by showing this Ad prior to your purchase. Cash only at the Gate. ATM on-site.
The winner receivet a large one topping pizza from #pizzabolis, 2 sweet treats from #chickfila and a Bennett's Curse Logo T-Shirt along with bragging rights and a cool picture too! We want more winners Thursday, so who's ready to find him?
Location: 7875 A Eastpoint Mall Baltimore, MD 21224 located behind Gabe's across from Party City.
Open Thursday October 18, 2018 from 7pm-10pm Doors open at 7pm and close promptly at 10pm please plan accordingly.
Offer expires 10/18/18. Not valid on prior purchases. Must present offer prior to your purchase at the gate. Must enter discount code in the checkout prior to your purchase. Not combined with any other offer. Cash only at the gate. ATM on site.
#bennettscurse2018 #bennettscurse #demonbabyscavengerhunt #eastpointmall #pizzabolis #chickfila #monsterfest #hauntedhouse #americahaunts #hauntedhousemaryland #visitmaryland #bcwinners
---